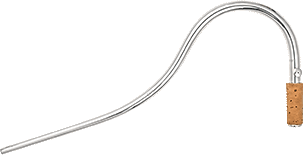 Striving to offer the discerning bassoonist the optimal crook for every situation, we combine variations of bore, taper, material and thickness. Püchner bocals therefore give subtle variants with regarding resistance, response – ease of attack, tone and colour/timbre.

We also offer Püchner crooks in a straight bend. All crooks are manufactured without a solder line and thus of highest quality and endurance.

Püchner bassoon bocals are available in the lengths 0, 1, 2 and 3.
B


More resistance and dark in tone


C
An easy speaking all-round bocal
Models
Features
BD
CD
Thin-walled, German silver, silver plated
BB
CB
Thick-walled, Brass, silver plated
BC
CC
Thick-walled, German silver, silver plated
BC-XL
CC-XL
Extra-thick-walled, German silver, silver plated
BS
CS
Thick-walled, Sterling silver 935, silver plated