SERVICE FOR BRASS AND WOODWIND INSTRUMENTS
Since 1999 ZM Concept has been servicing woodwind and brass instruments. During this time we have carried out countless repairs and adjustments. The experience gained and the professional approach has been noticed by many renowned instrument manufacturers from all over the world. As a result, we can now be proud of the certificates of brands such as Yamaha, Buffet Crampon Group (B&S, Melton, Hans Hoyer, Besson), Gebr.Alexander, Finke, Engelbert Schmid, John Packer, Paxman, J. Puchner, Michael Rath.
SERVICE OF
BRASS INSTRUMENTS
Comprehensive repair of all brass instruments: trumpets, trombones, horns, tubes, sakshorns, euphonium etc.
Learn more/a>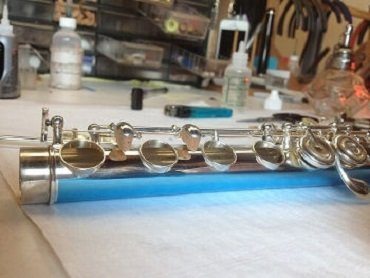 SERVICE OF
WOODWIND INSTRUMENTS
Comprehensive repair of all woodwind instruments: cross flutes, saxophones, clarinets, both, bassoons etc.
Learn more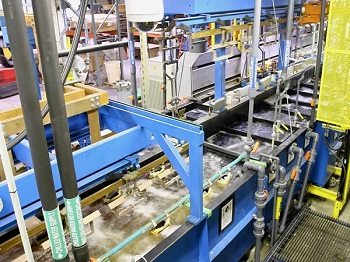 GALVANIZATION
Galvanization of mouthpieces, mechanics, body and instrument components

DIAGNOSIS AND INITIAL CALCULATION
Our specialists make every effort to determine the cost of repair to the extent desired by the customer. They can also suggest additional, necessary service activities that will allow you to enjoy an efficient instrument for the next years. At this stage, the client will be informed about the expected date of repair of the instrument.

REPAIR
Our specialists start service activities after obtaining the client's consent. They have the skills and tools to ensure an efficient and professional repair.

INSTRUMENT COLLECTION
After the repair is completed, our employees will contact you and arrange a possible date for the collection of the instrument. The instruments can also be sent back to you by courier. They are then carefully packed and secured so that they can be delivered intact to the address given by you. All shipments sent by our company are insured.
We have 20 years of experience and our staff have been trained in the best European service workshops. We use the newest technologies. We cooperate only with trusted partners. We take 100% responsibility for our services. We guarantee authorized service of companies: Yamaha, Buffet Crampon Group (B&S, Hans Hoyer, Buffet, Melton, Besson, J.Scherzer, A.Courtois), Engelbert Schmid, Finke, Michael Rath, Gebr. Alexander, J.Puchner, Paxman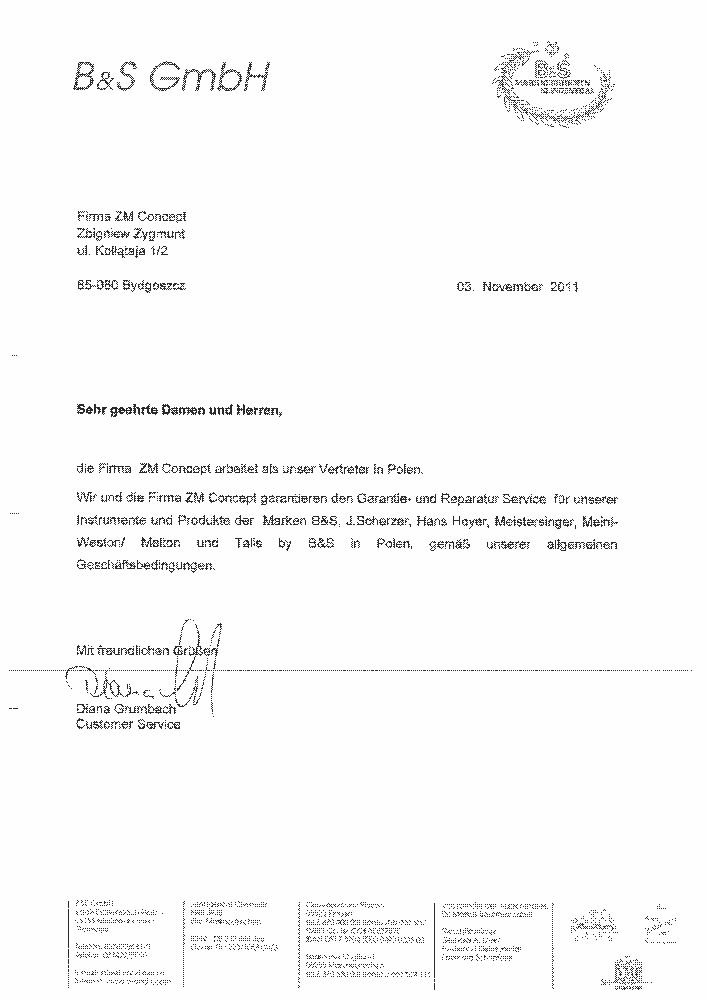 B&S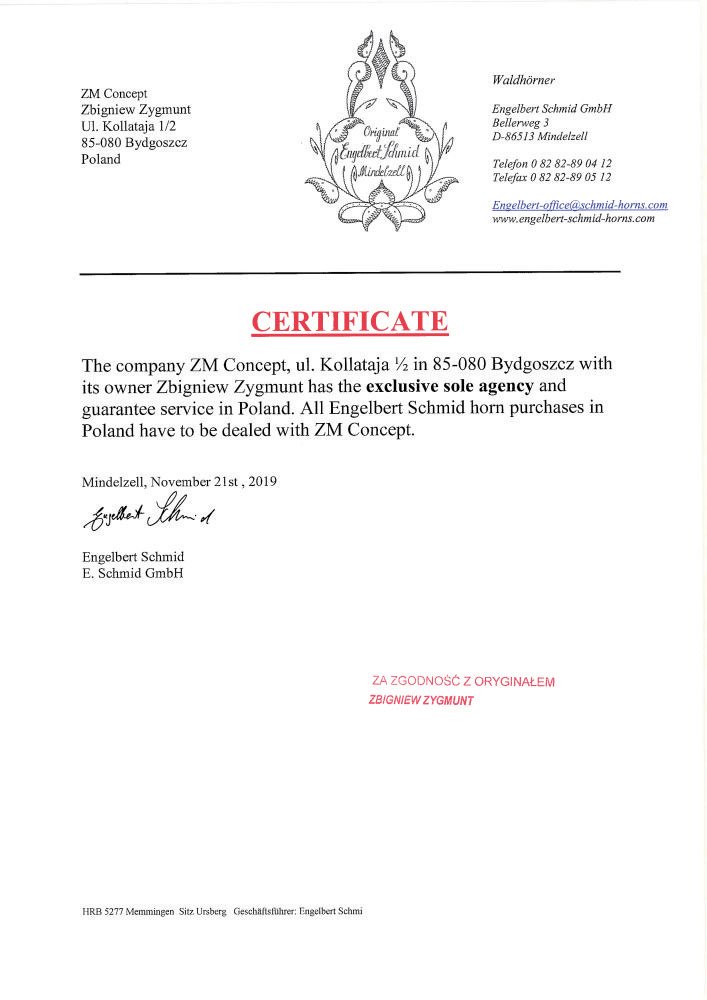 ENGELBERT SCHMID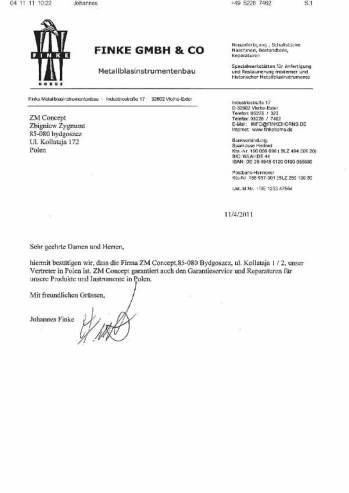 FINKE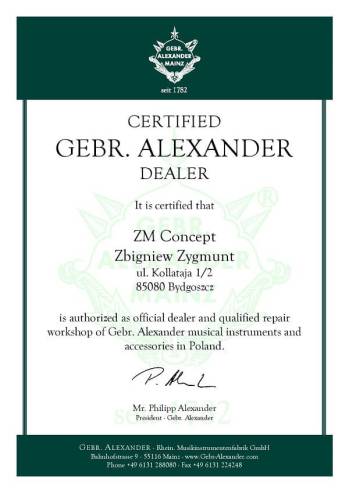 GEBR. ALEXANDER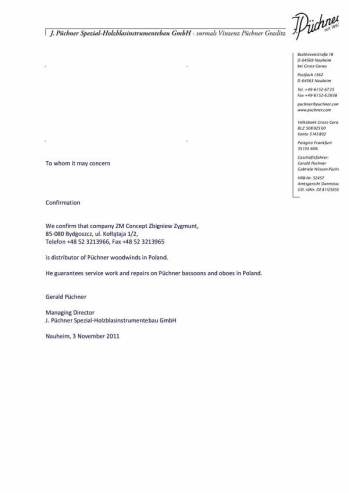 J.PUCHNER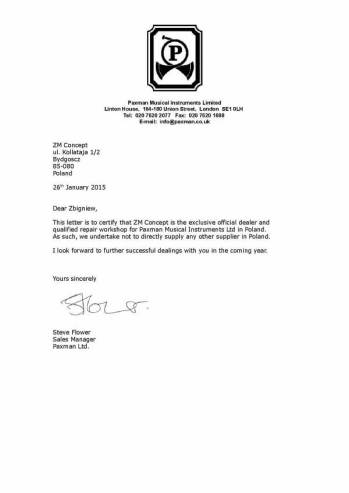 PAXMAN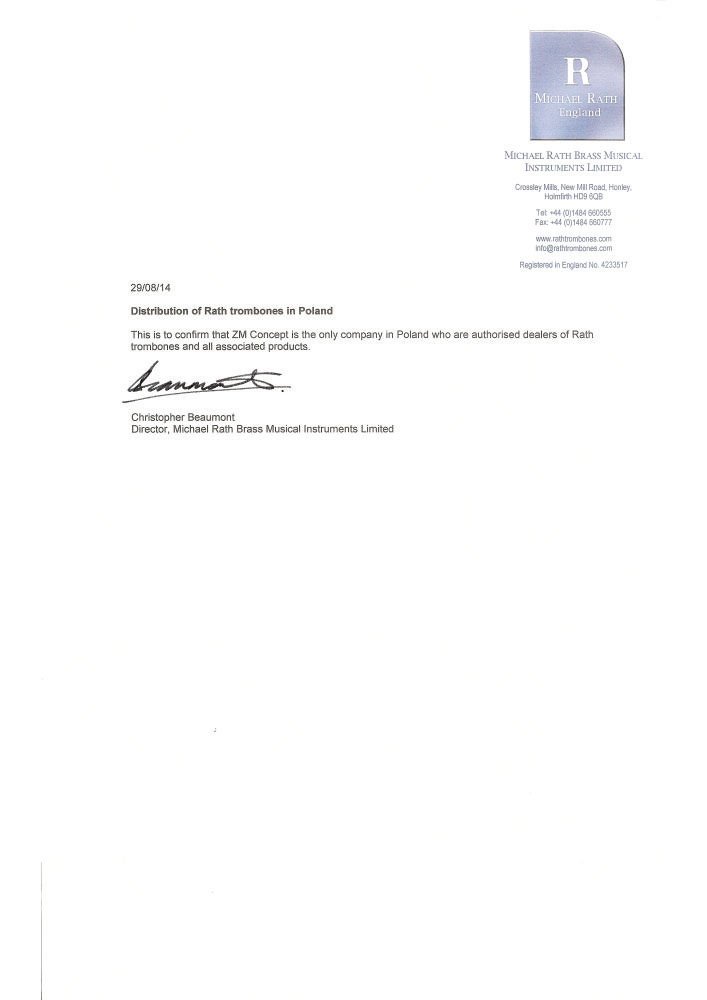 MICHAEL RATH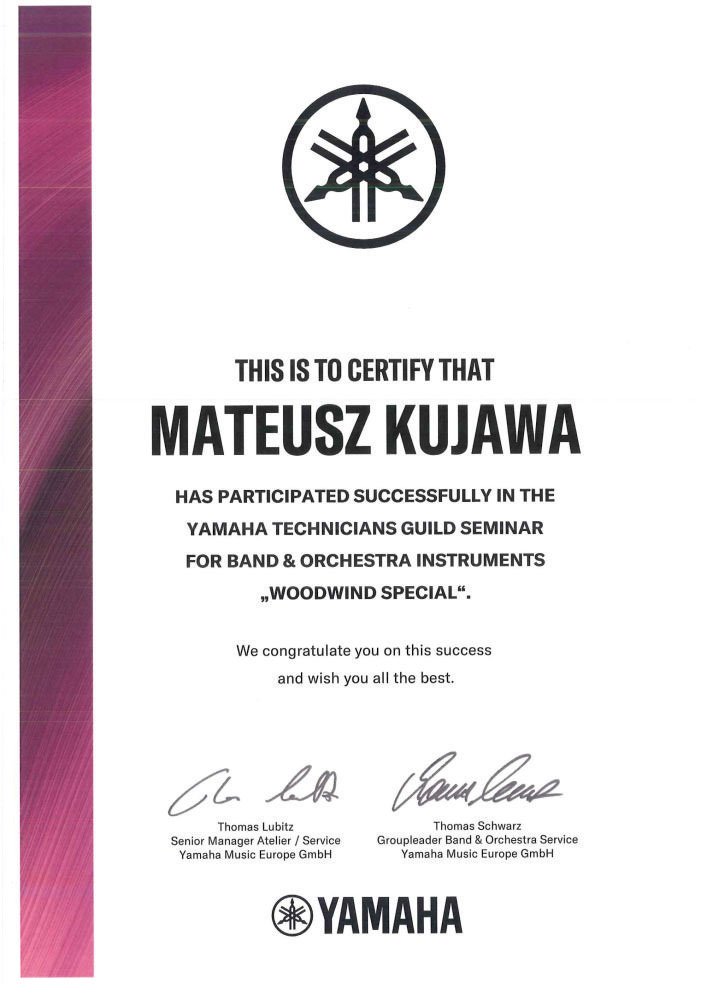 YAMAHA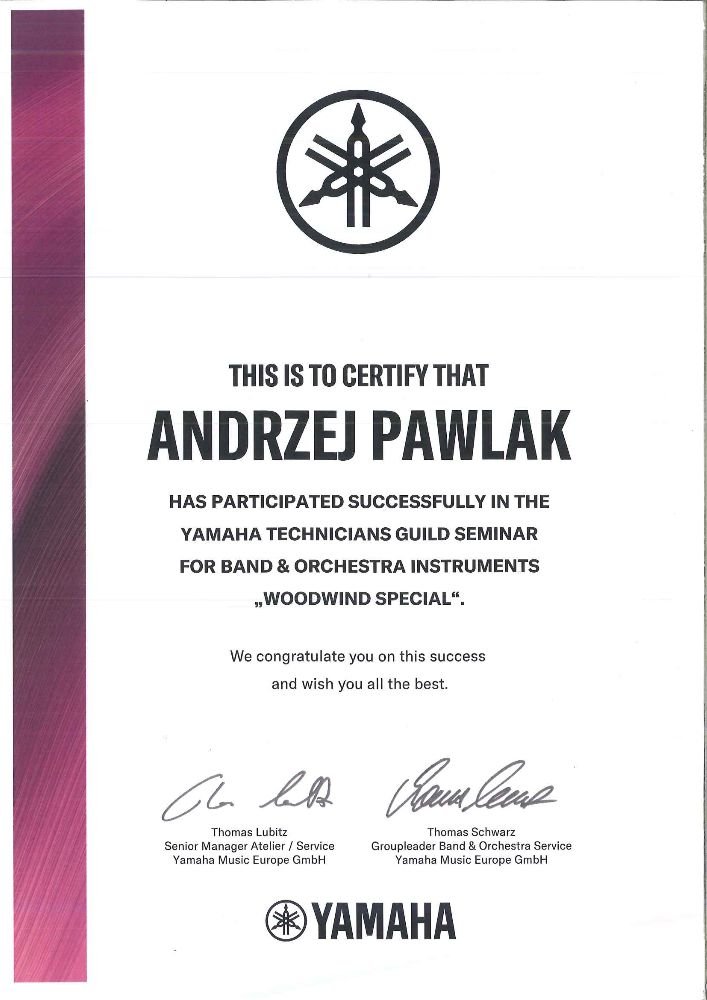 YAMAHA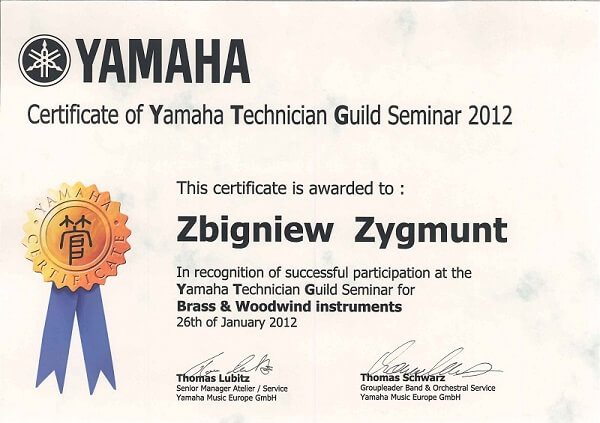 YAMAHA
Instrument disassembly
Denting removal
Tube straightening
Rightening brass bell
Piston tightness check
All brackets and soldered parts check
Swapping springs and felts in piston valves
Swap of springs and bumpers in rotary valves
Swapping spoiled parts such as: mouthpiece tube, voice charm, spikes, pistons, thumb grip etc.
Position adjustment of piston and rotary valves
Mounting amado from the water flap and vice versa
Cushion or stopper replacement and springs in the water flap
Rightening and improving the work of tuning rounds
Cleaning, grinding and polishing from outside and inside the instrument
Oilignment and instrument conservation
Painting or silver plating
Every instrument being serviced is tested by professional musicians
Instrument disassembly
Denting removal
Tube straightening
Rightening brass bell
Cutting off the spell and mounting the ring connecting the spell to the body
Tightness check of rotary valves
Checking all brackets and soldered parts
Swap of springs and bumpers in rotary valves
Swapping out broken parts such as: mouthpiece tube, voice spell, spikes, thumb grip etc.
Adjustment of rotary valve positions
Correction of triggers
Cushion or stopper replacement and springs in the water flap
Transfer of string in rotary mechanism
Conversion of mechanics with ball clutch tappets to string mechanics and vice versa
Mounting flipper and additional water flaps
Rightening and improving the work of tuning rounds
Inaccessible setting up or mounting the fifth-finger hook
The instrument intonation correction
Cleaning, grinding and polishing from outside and inside the instrument
Oilignment and instrument maintenance
Every instrument being serviced is tested by professional musicians
Instrument disassembly
Denting removal
Tube straightening
Rightening brass bell
Tightness check of rotary valves
Slide tightness correction
Checking all brackets and soldered parts
Swap of springs and bumpers in rotary valves
Swapping out broken parts such as: mouthpiece tube, voice spell, spikes, thumb grip etc.
Adjustment of rotary valve positions
Cushion or stopper replacement and springs in the water flap
Mounting the wrist support
Rightening and improving the work of tuning rounds
The instrument intonation correction
Cleaning, grinding and polishing from outside and inside the instrument
Oilignment and instrument maintenance
Painting or silver plating
Every instrument being serviced is tested by professional musicians
Instrument disassembly
Denting removal
Tube straightening
Rightening brass bell
Denting removal
Tube straightening
Fixing voice spell
Mounting a ring to a belt or harness
Tightness check of pistons and rotary valves
Checking all brackets and soldered parts
Swap of springs and bumpers in rotary valves
Swapping springs and felts in piston valves
Swapping out broken parts such as: mouthpiece tube, voice charm, spikes, pistons, rotary valves etc.
Adjustment of rotary valve positions
Correction of triggers
Cushion or stopper replacement and springs in the water flap
Rightening and improving the work of tuning rounds
The instrument intonation correction
Cleaning, grinding and polishing from outside and inside the instrument
Oilignment and instrument maintenance
Painting or silver plating
Every instrument being serviced is tested by professional musicians
Checking for instrument tightness
Disassembling and cleaning the instrument
The clarinets and oboe made of composite are cleaned with polishing paste or "dry"
The instruments with a wooden body are thoroughly cleaned and oiled, polished on request
Swap all cushions (the customer has the possibility to choose their type) corks and felts on the mechanics. 
Swap plugs connecting the body, bell and barrel. On request we can also replace the cork on the mouthpiece
Regulating and straightening flaps and replacing damaged springs
Correction of pillow seats
Eliminating cracks on the body, bell and barrel
Cleaning and polishing all silver-plated, nickel-plated and gold-plated parts
Sticking moving rings
Every instrument being serviced is tested by professional musicians
Disassembling and polishing the instrument
Eliminating dents
Swapping pillows, corks and felts
Exchanging a cork in the head
Knockout of conical pins connecting flaps with axles
Flap height adjustment
Checking the instrument axis
Fitting head and feet
Cleaning with an ultrasonic cleaner and polishing the mechanics, base, head and body.
Adjusting the flaps
Reneration of pillows (if their condition allows it)
Mix each flap to the sound holes
Cleaning and oiling the mechanics
Every instrument being serviced is tested by professional musicians
Disassembly and cleaning of the entire instrument, removing all cushions, plugs and felts
Rightening flap covers
Fixing bell
Mechanical regulation and clearance elimination
Flap opening height uniformity
Cleaning and oiling rolls in flaps
Regulating spring tension or replacement
Placing new cushions according to customer's instructions
Mute professional quality mechanics with corks and felts
Cushion sealing and micro adjustment of flaps
Fitting and straightening pillow holes
Every instrument being serviced is tested by professional musicians
In order to ensure the highest quality of our services, the service offers work tailored to your needs, such as :
Silvering
Polishing
Mixing the mechanics to the musicians' individual preferences
Thread correction
Relove rolls
Exchange of pearl inserts
Mounting the thumb cap